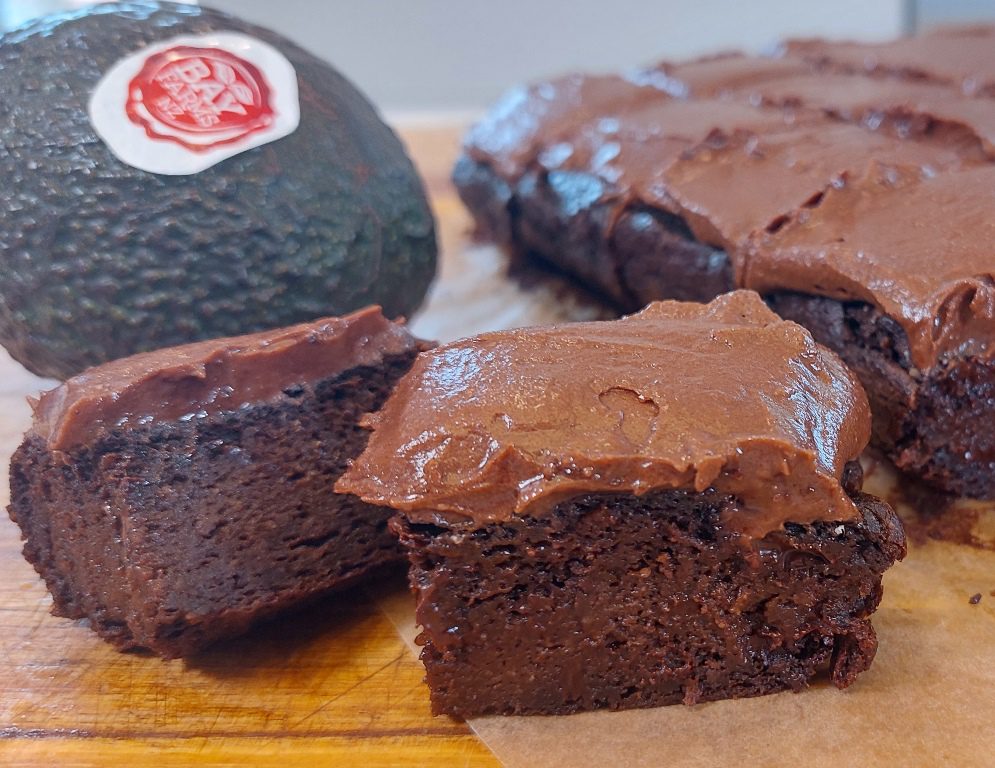 Here's one for the boys in support of Men's Health Awareness Month this Mo'Vember – Avocado Brownies! Everyone loves a gooey, fudgy brownie and our boys couldn't believe this one was made with avocados!
Not only that, this recipe is GLUTEN FREE and DAIRY FREE too! What's not to love… except how to stop yourself from having more – check our Facebook page for the super easy video on our BayFarms bloke making this recipe for us.
Ingredients
2

 large BayFarms avocados (or 3 small as a rough estimate)

1 

 

cup

 

coconut sugar (or brown sugar)

1/2

 

cup

 

cocoa powder

3 

 

eggs

1/2

 

cup

 

brown rice flour (or almond meal flour works great too!)

1/2

 

teaspoon

 

baking soda

1/2

 

cup chocolate chips (or roughly chopped dark chocolate) – can be dairy-free or not, the choice is yours!
Instructions
Preheat oven to 180C and grease and line a brownie tin – we used an 18cm x 26cm tin
Add the flesh of 2 BayFarms Avocados to food processor with 1 cup coconut sugar and 1/2 cup cocoa powder. Blend until smooth.
Add eggs, rice/almond flour and baking soda. Pulse until eggs are just mixed into batter – take care not to over-mix.
Use a spatula or wooden spoon to fold chocolate chips into batter.
Spread batter into your tin and place in oven to bake for 15 minutes.
Cool thoroughly before icing (optional), cutting and serving.
Healthy Frosting
Ingredients
1 cup  coconut oil
1 cup dark chocolate melting wafers
Instructions
To make a glaze:
Combine both ingredients in a microwave-safe bowl and heat for 30 seconds. Stir.
Continue microwaving in 15-second increments, stirring between intervals, until chocolate has melted into a smooth liquid glaze that can be poured over cakes and loaves or used for dipping muffins, donuts, etc.
To make fluffy frosting:
Allow glaze to cool to room temperature and whip with a spoon or whisk until you have achieved your desired consistency.
If your glaze is too hot to whip, place in the fridge for about an hour to cool frosting faster, then try whipping.
Storing Your Brownies
These brownies are best when stored in the fridge. If kept covered and refrigerated, they should last 2-3 days.
You can also keep for up to a month in the freezer. Individually wrap the brownies, then place them inside a large free
zer bag.
Why Avocados?
Rich, chewy, and fudge-y, these avocado brownies taste like a total indulgence — yet they're a guilt-free treat!
Gluten-free and packed with good fats and omega-3s, you get all the superfood benefit of avocados in a dessert.
Avocados are also great in baking because they add moisture plus nutrients that wouldn't normally be found in sweet treats.