A warm sunny welcome!
You have arrived at our online shop where you can find fresh tasty Avocados and Kiwifruit with fast delivery!
How can we help you today?


How it works
Select

 

avo

 

or

 

kiwi

. Choose what size you would like to buy.
Make a

 

one-off order, or choose a weekly, fortnightly

 

or

 

monthly

 

subscription.
The box will be efficiently and delicately packed and delivered to your chosen address.
Enjoy your delicious fresh farm produce!
Avocados and Kiwifruit sourced here in the Bay of Plenty!
Nothing beats a delicious box of NZ Avocados – rich in flavour, bountiful and delivered to your door, anywhere in New Zealand!  Online, fresh quality and hassle free Avo delivery is BayFarms speciality.
Purchasing BayFarms Avocados means quality Avocados at wholesale prices!
Our Avocados are available to purchase nearly 12 months a year! Ordering is as easy as smashed avo on toast – all you need to do is choose how you'd like to order. One-off orders? No problems! Or try a subscription which gives you avocados and kiwifruit on demand, you'll never go hungry again.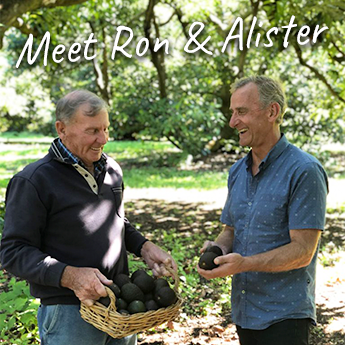 Ron and Alister established BayFarms in 1995 and straight out of the farm gate, they knew they were onto something special.  The plan was set in stone; deliver the most delicious, top-quality, A-grade Avos and Kiwis to the New Zealand public (who happened to have a particular hankering for Avos and Kiwis).
When the internet came along it proved an opportunity too good to miss and BayFarms' launched it's Avocado and Kiwifruit online store – delivering fresh, healthy and delicious produce directly to the customers homes and workplaces New Zealand wide. BayFarms are proud to celebrate 25 fruitful years serving our communities by delivering the best produce available on the market.
Get 10% off your first online order – using the promo code
Exclusive discounts and promotions to subscription members only
Priority when supply is short
Recipes, ripening tips, new season alerts